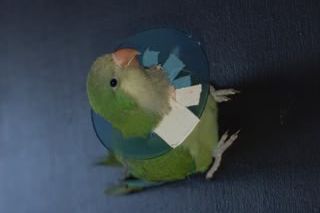 Well, long story short. Pickles lost a toe nail somehow. I was at home with him all day and never heard any signs of distress, but found drops of blood everywhere in and around his cage. I rushed him to the vet. An hour and 1/2 later, with 1 stitch and a new necklace-we were on our way home.
He is doing fine. He is eating and drinking well, but having difficulties navigating around his cage. I keep seeing all these "street" birds and think to myself-why does Pickles have to look like he is the one of them? Really some of them look better than him right now. We had to take him into the vet just a couple of weeks ago for a broken blood feather, he has completely shredded his tail, and now he has to wear a beautiful blue necklace because he has a stitch in his toe! But we love him-mangled and all!
The picture is of him and his necklace.